Acrylic Headphone Sand LA51005 12.3*5.5*25.3cm PC/PETG /PS/ABS
The Acrylic Headphone Stand LA51005, measuring 12.3*5.5*25.3cm, offers a versatile and stylish solution for storing and displaying your headphones. Crafted from a mix of durable materials like PC, PETG, PS, and ABS, it serves both functional and aesthetic purposes. Multiple customization options are available.
Key Features:
Material Versatility: Made from a mix of PC, Acrylic, PETG, PS, and ABS, ensuring durability and aesthetic appeal.
Customizable Dimensions: Standard dimensions are 12.35.525.3 cm, but we also accept customization.
Color Options: We offer a wide range of color choices to match your aesthetics.
Material Thickness Variability: Customizable according to the specific model and user requirements.
Adjustable Tensile Strength: Depending on the material and manufacturing process, the tensile strength can be adjusted.
Multiple Surface Treatment Options: Choose from painting, heat transfer printing, screen printing, and more.
Labeling and Advertising: This stand can also be used for displaying custom labels and advertising price information.
Packaging: Various packaging options available, from individual to bulk packaging.
General Information:
Brand: La-Plastic
Application: Ideal for tailored labeling and advertising price information displays.
Packaging: Options are available to meet your packaging preferences, including individual or bulk packaging.
Temperature Range: The Acrylic Headphone Sand LA51005 can withstand a range of operating temperatures, ensuring suitability for various environments and conditions.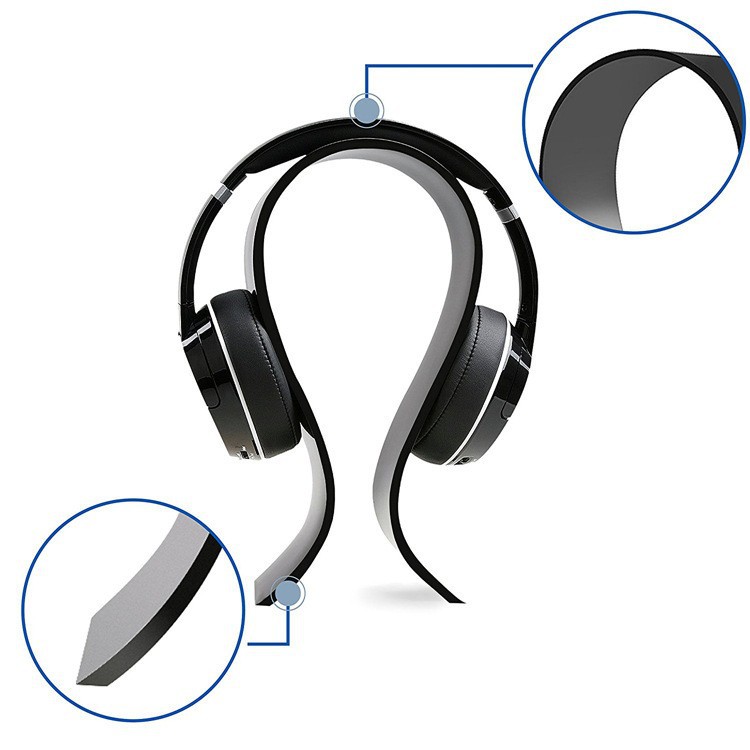 Specifications
| Specification/Parameter | Detailed Description |
| --- | --- |
| Product Name | Acrylic Headphone Stand |
| Model Name | LA51005 |
| Material | PC/Acrylic/PETG/PS/ABS |
| Dimensions | 12.35.525.3 cm (Customization Accepted) |
| Length | Variable, based on demand |
| Color | Multiple options |
| Material Thickness | Variable, based on model and requirements |
| Tensile Strength | Variable, based on material and production |
| Production Method | Fabricated |
| Surface Treatment | Customizable (e.g., painting, printing) |
| Usage | Label customization, price display |
| Packaging | Customizable (e.g., individual, bulk) |
| Operating Temperature | Variable, based on material and design |
Applications
Personal Use: A great addition to your home setup to store your headphones safely while adding a touch of elegance to your desk.
Retail Display: Ideal for showcasing headphones in a retail environment, where it can also function as a pricing or information display.
Recording Studios: Provides a stylish and functional storage solution, making sure your headphones are always within arm's reach.
Corporate Settings: Offers a professional look suitable for offices, conference rooms, and client meeting areas.
Opt for the Acrylic Headphone Stand LA51005 by La-Plastic to achieve a perfect balance of functionality, aesthetics, and durability. Choose from our range of customization options to create the ideal stand that meets all your needs.