Acrylic Sign Holder LA51007 12*8cm PC/PETG /PS/ABS
The Acrylic Sign Holder LA51007, measuring 12*8cm, is a versatile and customizable display solution perfect for showcasing advertisements or price information. Made from a range of materials including PC, PETG, PS, and ABS, it offers durability and flexibility for various applications. Choose from multiple color options and surface treatments to fit your needs.
Key Features
Material Versatility: Manufactured with a variety of materials like PC, Acrylic, PETG, PS, and ABS, the LA51007 sign holder offers robustness and flexibility.
Customizable Dimensions: With the standard dimensions of 12*8cm, the product also offers customization to suit individual needs.
Color Options: Whatever your brand color or theme, we offer a variety of colors to match.
Production Excellence: Fabricated production ensures high quality and durability.
Custom Surface Treatment: Whether it's spray painting or heat transfer, you get to choose the final appearance of your sign holder.
General Information
When it comes to displaying advertising and price information, the La-Plastic Acrylic Sign Holder LA51007 has got you covered. This is a top-of-the-line sign holder crafted with meticulous attention to detail and designed to fulfill your diverse requirements.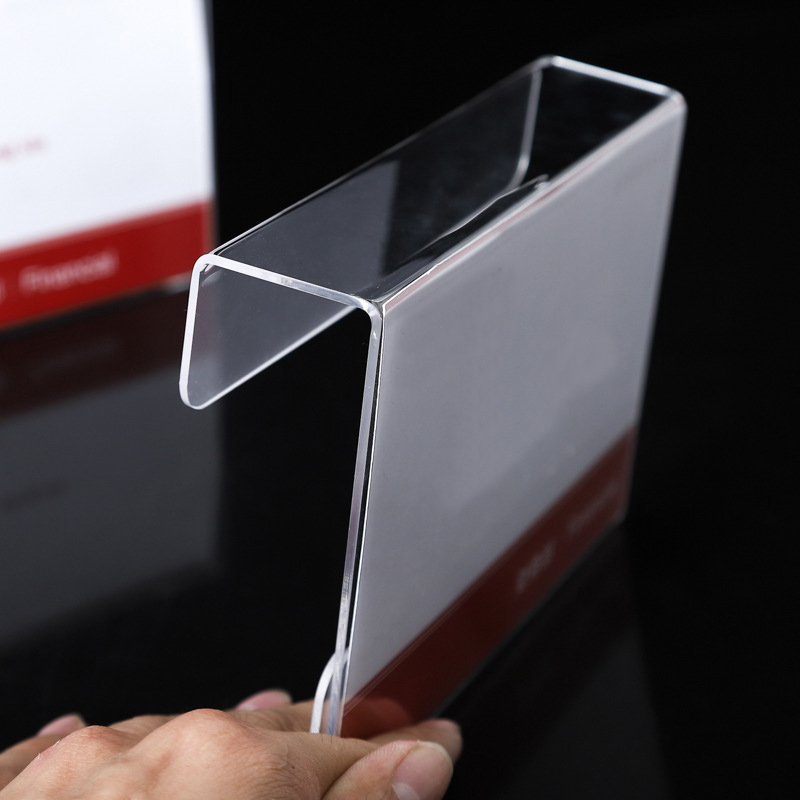 Specifications
| Specification | Detailed Description |
| --- | --- |
| Material | PC/Acrylic/PETG/PS/ABS |
| Dimensions | 12*8cm (Customization Accepted) |
| Length | Customizable based on needs |
| Colors | Multiple options available |
| Material Thickness | Varies based on model and requirements |
| Tensile Strength | Depends on the material and manufacturing process |
| Production Method | Fabricated |
| Surface Treatment | Customizable (Spray Painting, Heat Transfer, Screen Printing, etc.) |
| Packaging | Customizable (Individual or Bulk) |
| Operating Temperature Range | Varies depending on materials and design |
Applications
Label Customization: Ideal for stores or businesses that need personalized labels.
Advertising: Perfect for showcasing prices, promotions, and advertisements in a retail environment.
Information Display: Excellent for offices or events where directional or informational signage is necessary.