PVC Insert tray LA31002 12*4*3cm PET/PS/ABS
The PVC Insert Tray LA31002 with dimensions of 12*4*3cm offers versatile options in materials such as PET, PS, and ABS. Ideal for label customization and advertising displays, this tray features customizable length and multiple color choices. Vacuum-formed for durability, it also accommodates various surface treatments to meet diverse needs.
Key Features:
Material Diversity: Crafted from a range of durable materials such as PET, PS, ABS, and PVC, this insert tray promises longevity.
Customizable Size: The standard size stands at 12*4*3cm. However, we do recognize unique requirements and offer customization on this parameter.
Variety in Color: Users have the luxury to choose from an extensive range of colors that best align with their needs.
Surface Treatments: We offer numerous surface treatments depending on the specific needs. Whether it's spray painting, heat transfer, or silk screen printing – we've got you covered.
Vacuum Formed: The production process involves vacuum forming, which ensures precision and high quality in the final product.
General Information:
Dimension: The standard dimension for the insert tray is 12*4*3cm. We welcome customizations on this specification to cater to individual needs.
Length: The length of the tray can be varied as per the specific requirements of the customers.
Surface Treatment Options: Depending on your requirements, you can opt for treatments like spray painting, heat transfer, or silk screen printing to enhance the tray's appearance.
Packaging Options: You can select from a variety of packaging options, whether you want it individually packed or in bulk.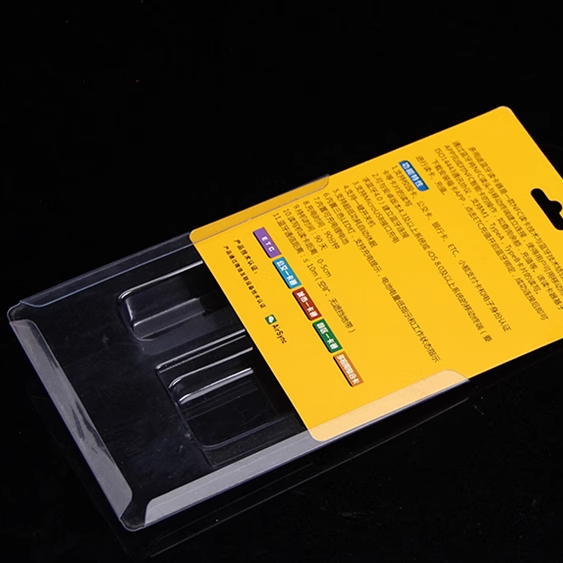 Specifications:
| Feature/Specification | Details |
| --- | --- |
| Product Name | PVC Insert tray |
| Model Name | LA31001 |
| Material Composition | PET/PS/ABS/PVC |
| Material Thickness | Varies based on model and requirements |
| Tensile Strength | Varies depending on material & manufacturing |
| Production Method | Vacuum Formed |
| Packaging | As per requirement (Single/Bulk, etc.) |
| Operational Temperature Range | Varies based on design & material |
Applications:
Retail: Display product labels with clarity and precision.
Advertising: Showcase pricing information and promotional materials effectively.
Merchandising: Create organized and appealing product displays.