Data strip LA21013 23mm PVC
The Data Strip LA21013 is a 23mm PVC strip tailored for diverse labeling and advertising needs. Offering customizable lengths and a variety of color options, this strip is suitable for retail stores, trade shows, and offices. Multiple surface treatments and packaging choices allow for greater flexibility.
Key Features
Durable Construction: Fabricated from high-quality PVC material, ensuring durability and longevity.
Compact Design: With a label height of just 23mm, it fits into tight spaces without compromising visibility.
Tailored Length: Choose the length that matches your specific requirements.
Color Versatility: Comes in a range of color options to suit your branding.
Adaptive Surface Treatment: Offers customization in surface treatments such as spray painting, heat transfer, and silk-screen printing.
Packaging Flexibility: Whether you need individual pieces or bulk packaging, we've got you covered.
General Information
Brand: La-Plastic
Model: LA21013
Material: PVC
Usage: Customized labeling, advertising, and pricing display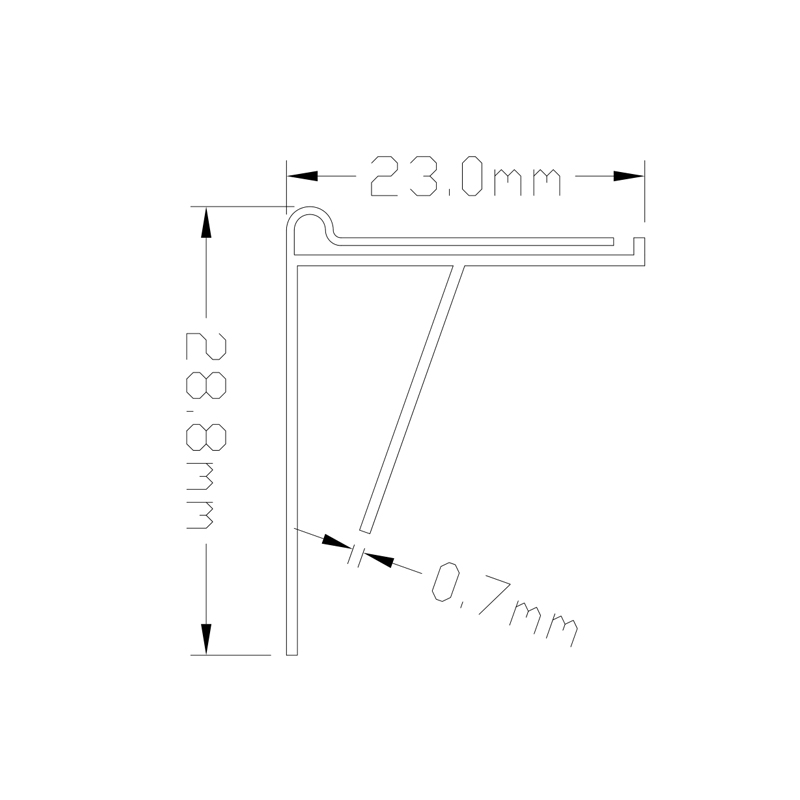 Specifications
Below is a table of detailed specifications for quick reference.
| Feature | Description |
| --- | --- |
| Product Name | Data Strip |
| Model Name | LA21013 |
| Material | PVC |
| Label Height | 23mm |
| Length | Customizable based on needs |
| Color | Multiple options |
| Material Thickness | Varies based on model and requirements |
| Tensile Strength | Varies based on material and manufacturing |
| Production Method | Plastic Extrusion |
| Surface Treatment | Customizable (e.g., spray painting, heat transfer, etc.) |
| Packaging Method | Customizable (e.g., single, bulk, etc.) |
| Operating Temp Range | Varies based on material and design |
Applications
Retail Sector: Make your price tags and promotional details stand out.
Trade Shows: Highlight product features or artwork details beside the exhibit.
Office Spaces: Label your files, shelves, or equipment in a neat and efficient manner.
Warehouses: Organize your inventory with clearly labeled shelves and bins.