Data strip LA21011 68mm PVC
The Data Strip LA21011 is a 68mm PVC strip designed for versatile labeling and advertising needs. With options for customization in length, color, and surface treatment, it serves as an adaptable choice for retail stores, supermarkets, and various display setups.
Key Features
Material: Made of PVC, the strip offers durability and a smooth surface for clean visuals.
Label Height: With a height of 68mm, it provides sufficient space for easy-to-read labels.
Customizable Length: The strip is available in various lengths, customizable to specific requirements.
Color Variety: Multiple color options ensure the strip can match any store layout or branding scheme.
Surface Treatment: Choose from an array of surface treatments like spray painting, heat transfer, and silk-screen printing to enhance visual appeal.
Packaging: Options for individual or bulk packaging cater to different needs.
General Information
Model Name: LA21011
Production Method: Plastic extrusion
Tensile Strength: Varies based on material and manufacturing process
Operating Temperature Range: Subject to material and design constraints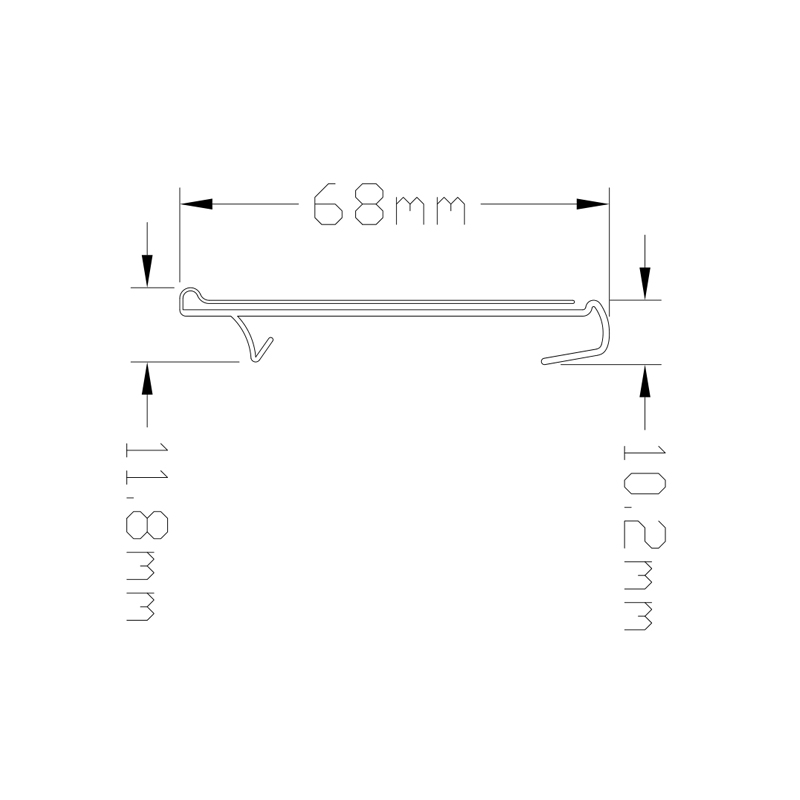 Specifications
| Specification | Description |
| --- | --- |
| Product Name | Data Strip |
| Model Name | LA21011 |
| Material | PVC |
| Label Height | 68mm |
| Length | Customizable upon request |
| Color | Multiple options |
| Material Thickness | Varies based on model and requirements |
| Tensile Strength | Varies based on material and process |
| Production Method | Plastic extrusion |
| Surface Treatment | Customizable (e.g., spray paint, heat transfer, silk-screen printing) |
| Packaging | Customizable (e.g., individual or bulk) |
| Operating Temperature | Subject to material and design |
Applications
Label Customization: Ideal for supermarkets, retail stores, and warehouses requiring customizable label options.
Advertising: Excellent for displaying price tags and promotional messages in a professional manner.
Information Display: Useful in museums, galleries, and information desks for neatly presenting informational labels.