Data strip LA21014 50mm PVC
The Data Strip LA21014 is a 50mm PVC strip ideal for a variety of labeling and advertising needs. It offers customizable lengths and a range of color options. Surface treatments like spray painting and heat transfer can be tailored to fit your aesthetic needs.
Key Features
Sturdy Material: Manufactured from PVC for durability and extended use.
Ample Display Area: Features a 50mm label height for better readability and visibility.
Custom Length: Length adjustments are available to fit specific needs.
Multiple Color Choices: A spectrum of color options to align with your branding needs.
Custom Surface Treatments: Options such as spray painting, heat transfer, and silk-screen printing can match your aesthetic preferences.
Various Packaging Options: Whether you need one strip or many, customize your packaging needs accordingly.
General Information
Brand: La-Plastic
Model: LA21014
Material: PVC
Purpose: Custom labeling, displaying advertising, and pricing information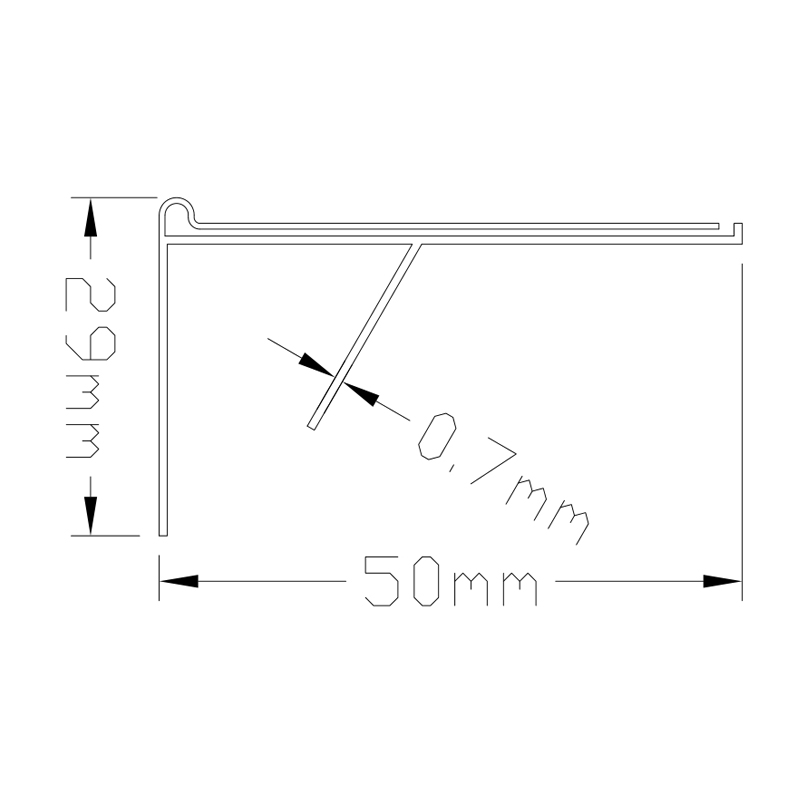 Specifications
For a detailed understanding, the specifications are tabled below:
| Feature | Description |
| --- | --- |
| Product Name | Data Strip |
| Model Name | LA21014 |
| Material | PVC |
| Label Height | 50mm |
| Length | Customizable according to specific needs |
| Color | Multiple options available |
| Material Thickness | Variable based on model and requirements |
| Tensile Strength | Subject to material and manufacturing process |
| Production Method | Plastic Extrusion |
| Surface Treatment | Customizable (e.g., spray painting, heat transfer, etc.) |
| Packaging Method | Customizable (e.g., individual, bulk, etc.) |
| Operating Temp Range | Subject to material and design considerations |
Applications
Retail Environments: Use it to display price tags or promotional information in an easily accessible format.
Trade Shows: Helpful in featuring product or service details alongside your exhibits.
Offices: Manage your office space by labeling shelves, files, or even workstations.
Warehouses: Efficiently label storage areas or products to facilitate smooth inventory management.