Various polymers are commonly used in extrusion moulding, including thermoplastics like Polyethylene, Polypropylene, and PVC, thermosetting polymers such as Epoxy and Phenolic resins, as well as elastomers like natural and synthetic rubber.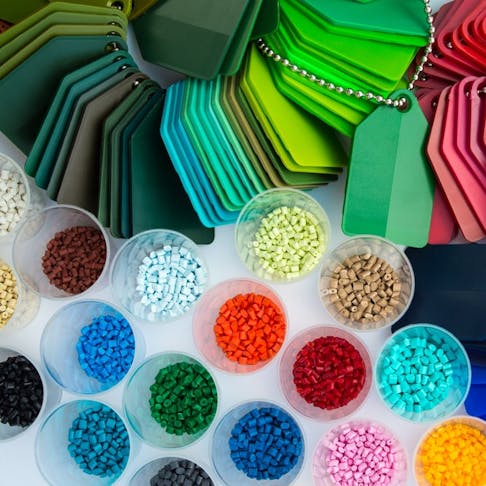 Thermoplastic Polymers for Extrusion Moulding
Thermoplastic polymers stand out for their ability to be melted and re-molded multiple times, making them ideal for extrusion moulding processes. In this section, we will focus on the most commonly used thermoplastic polymers, including their properties, applications, and processing conditions.
Polyethylene (PE)
Polyethylene, commonly referred to as PE, ranks as the most widely used plastic. It has various forms such as High-Density Polyethylene (HDPE) and Low-Density Polyethylene (LDPE).
Polypropylene (PP)
Polypropylene is another popular thermoplastic polymer, valued for its lightweight and high-temperature resistance characteristics.
Polyvinyl Chloride (PVC)
Polyvinyl Chloride, commonly known as PVC, has a wide range of applications and is known for its durability and cost-effectiveness.
Thermosetting Polymers for Extrusion Moulding
Thermosetting polymers differ from thermoplastics in that they undergo a chemical change when they are heated, becoming rigid and maintaining their shape even under extreme temperatures. Here, we focus on two key types of thermosetting polymers used in extrusion moulding: epoxy resins and phenolic resins.
Epoxy Resins
Epoxy resins have a unique ability to adhere to a variety of surfaces, which makes them highly desirable for certain applications.
Phenolic Resins
Phenolic resins find extensive use in the manufacturing of laminates and insulation materials due to their excellent thermal stability.
Elastomers for Extrusion Moulding
Elastomers display rubber-like properties that make them extremely flexible and durable. In the extrusion moulding industry, natural rubber and synthetic rubber are two of the most commonly used elastomers.
Natural Rubber
Natural rubber offers an array of properties that are desirable in many industrial applications.
Synthetic Rubber
Synthetic Rubber
Derived from petroleum-based chemicals, synthetic rubber can be engineered to exhibit specific properties.
Specialty Polymers for Extrusion Moulding
Specialty polymers such as Polyetheretherketone (PEEK) and Polytetrafluoroethylene (PTFE) are used for very specific applications that require high performance in extreme conditions.
Polyetheretherketone (PEEK)
PEEK is a high-performance polymer that offers a unique combination of properties.
Polytetrafluoroethylene (PTFE)
Commonly known as Teflon, PTFE stands out for its non-reactive nature and high melting point.
Factors Influencing Polymer Choice
Choosing the right polymer for extrusion moulding involves a number of considerations, such as the temperature resistance, mechanical strength, and cost of the material. In this section, we discuss these factors in detail, highlighting how they can affect the suitability of a polymer for specific applications.
Temperature Resistance
Temperature resistance is crucial for materials used in environments that are subject to varying or extreme temperatures.
Mechanical Strength
Mechanical strength is another vital factor, particularly for products that will bear loads or experience physical stresses.
Cost
Cost often becomes the decisive factor, especially when the other requirements have been met.